Our growth has been outstanding because everyone understands the importance of treating customers and fellow Associates with respect. Our customers are loyal because our Associates are loyal. Do you share that passion for customer service? Then come join our team!
our company purpose is
to serve our customers
In order to build a healthy retail organization that achieves sales and profits adequate for corporate growth and so that we may provide meaningful work and opportunity for the personal growth and security of every Niemann Foods Associate, we firmly believe in the fact that customer service is the reason for our continued success.
Jobs well done bring recognition and the opportunity for promotion.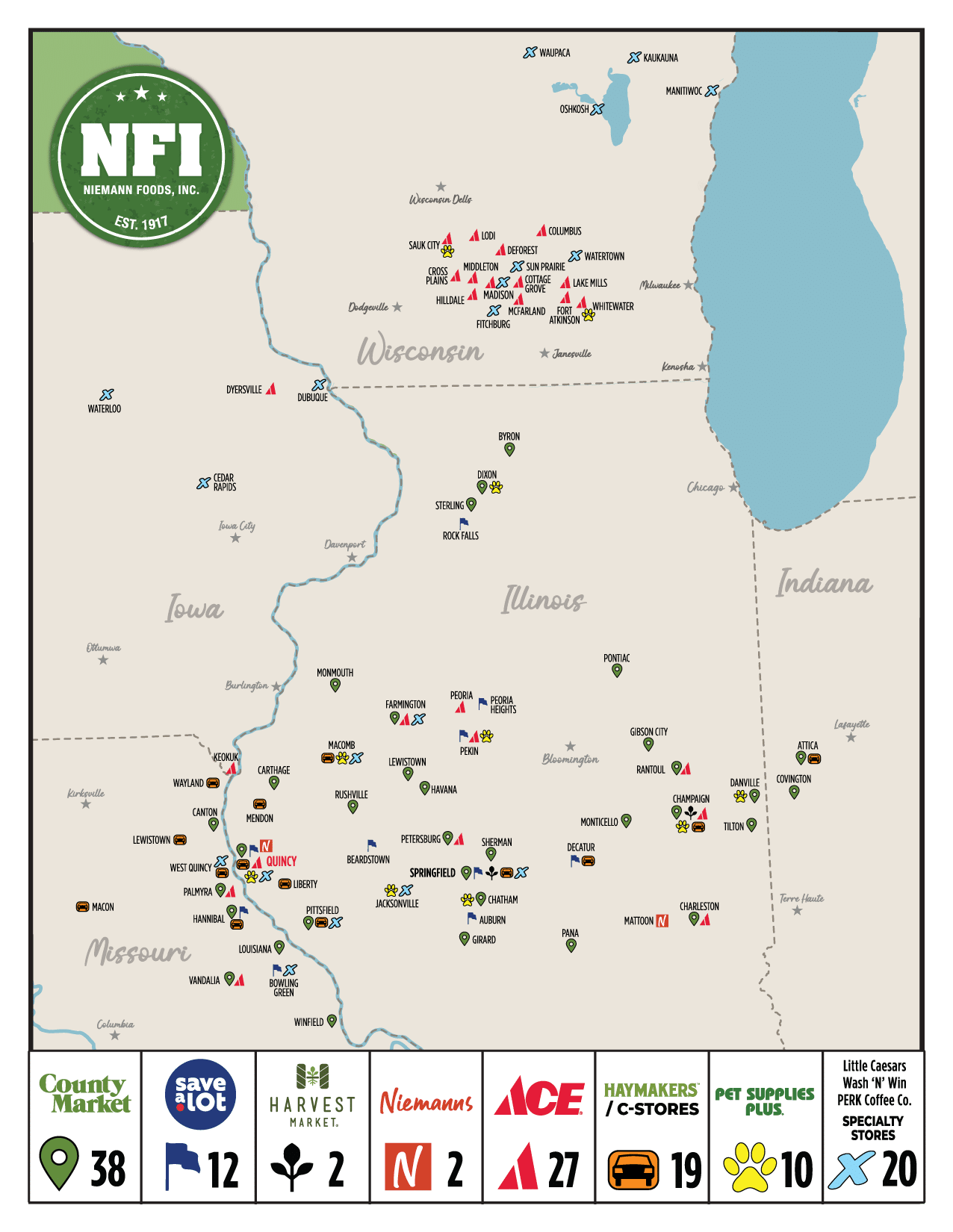 we take pride in supporting our team
Benefits of Employment at NFI
Full time Associates can receive benefits provided by Comprehensive Major Medical coverage including hospital charges, office visits, hospital outpatient charges and prescription drug card. The plan is subject to change.
After 1 year of full time continuous service - 1 week
After 2 years of full time continuous service - 2 weeks
After 10 years of full time continuous service - 3 weeks
After 20 years of full time continuous service - 4 weeks
NFI provides life insurance for all full-time employees.
Full time Associates can elect to receive dental benefits. The plan covers preventive and restorative services.
Niemann Foods, Inc. will pay the balance of prescriptions after you pay an initial co-pay. Flexible Spending Plan Associates may participate through a pre-tax deduction to pay for certain expenses for unreimbursed medical and dependent care claims.
Voluntary benefits are available to purchase through the convenience of payroll deductions. Benefits include Short and Long Term Disability for Associates. Critical Illness, VSP Vision and Life Insurance are available for Associates and immediate family members.
Six Paid Holidays
Funeral Leave
Direct Deposit
Jury Duty
Middle Management Bonus
PTO (Paid Time Off )—available to hourly Associates
Personal and Sick Days available to salaried Associates
We are very proud to offer 401(k)/profit sharing and a stock ownership plan. We feel that being "Employee Owned" has contributed much to our success. After all, when the Associates that are serving our customers everyday have a vested interest in company profits, they are more aware of all the "little things" that drive customer satisfaction.
A portion of our profits each year is put aside to fund our Employee Stock Ownership Plan (ESOP) which provides shares of NFI stock to eligible associates. One key feature of the ESOP Plan is that the plan is 100% company funded.
Eligible Associates also participate in a Profit Sharing Plan which is also funded 100% by NFI. This contribution will vary, depending on how profitable NFI is.
Associates may also participate in a 401(k) Profit Sharing by contributing pre-tax monies through payroll deductions. To motivate you to save more, NFI will match 25% of what you contribute to the plan up to the first 6% of your wages. The 401(k) Profit Sharing Plan is self-directed by each Associate who chooses between 10 funds in which to invest, or a Target Date Fund that's specifically designed with your retirement date in mind.
To qualify for ESOP and 401(k) Profit Sharing, you must be 21 years old, have completed 12 continuous months of employment and have worked a minimum of 1000 hours in the plan year.
personnel policies
Required Notices